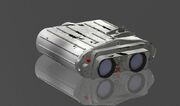 Similar to macro-binoculars, these are issued to new officers so they may better watch over their respective squads and keep an eye out for distant foes. Come 1.2, it also allows players to place distance markers which can be used by heavy artillery.
Ad blocker interference detected!
Wikia is a free-to-use site that makes money from advertising. We have a modified experience for viewers using ad blockers

Wikia is not accessible if you've made further modifications. Remove the custom ad blocker rule(s) and the page will load as expected.