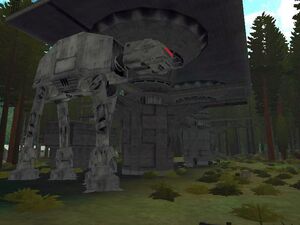 The forest
Endor Strike Team
map is the location of several famous landmarks, including a docking station with
two full-size AT-ATs
(Imperial Walkers).
These vehicles do not have any real functionality in the game and serve only as a visual landmark, but they can be boarded by curious visitors or snipers needing a decent hiding spot.
To board the walker, follow these instructions:
Go to the Imperial Outpost and enter a Speederbike.
Start driving forward towards the Dock opening.
Activate the booster (hold down the Shift key) as soon as you're at regular driving speed.
Just before you pass the first tree on your right, start pulling up.
Steer your vehicle into the Dock opening and land in the hallway there.
A demonstration video is also available on YouTube, you may watch it by pressing the play button below:
Ad blocker interference detected!
Wikia is a free-to-use site that makes money from advertising. We have a modified experience for viewers using ad blockers

Wikia is not accessible if you've made further modifications. Remove the custom ad blocker rule(s) and the page will load as expected.