The Krupx MiniMag Proton Torpedo Launcher employs a smaller version of the proton torpedoes used in craft such as the X-Wing and TIE Bomber. Even lightly armoured vehicles take several hits to kill, so it is strongly advised that several infantrymen team up to take down threats, especially well-armoured ones such as the T1-B Light Tank. The weapon is also capable of locking on to aircraft, which the torpedoes will then home in on. Be advised that the aircraft's warning system will alert its pilot that you are locking onto it.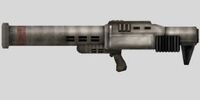 Ad blocker interference detected!
Wikia is a free-to-use site that makes money from advertising. We have a modified experience for viewers using ad blockers

Wikia is not accessible if you've made further modifications. Remove the custom ad blocker rule(s) and the page will load as expected.