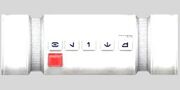 Every storm trooper is issued with a cylindrical thermal grenade usually hung on the back of their waist belts. Its moderate explosive range is especially useful for taking out enemies who are close together or behind obstacles.
Ad blocker interference detected!
Wikia is a free-to-use site that makes money from advertising. We have a modified experience for viewers using ad blockers

Wikia is not accessible if you've made further modifications. Remove the custom ad blocker rule(s) and the page will load as expected.